Duck Soup Productions Screening Room
---
News
UPDATED 9.4.23
Our THIRD New Deck for 2023 is here!
MYSTIC VISIONS ORACLE and MEDITATION DECK has arrived. Limited to 500 Copies, this poker-sized oracle pack has 72 colorful cards and is packaged in a printed hook box.
And don't forget our other new 2023 decks, MYSTIC TAROT and the ROOSEVELT BEARS ORACLE!
COMING ATTRACTIONS has been updated with two new projects.
Thank you, everyone, for TEN YEARS of MAGIC!
Sorry, but I can no longer accept any orders shipping to Russia or surrounding regions. In addition, shipping to certain countries (esp. Israel and Brazil) from Hong Kong has now become outrageously, prohibitively expensive. I'm having to accept some international orders on a case-by-case basis. I don't know what's causing this; I hope the situation will improve soon.

HELP LINKS: Click on them!!! Questions? Check the FAQ! and EMAIL DUCK SOUP PRODUCTIONS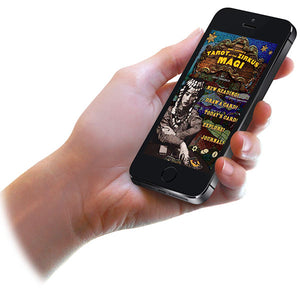 GET THE OFFICIAL Tarot of the Zirkus Mägi APP!
The full deck in one convenient app, complete with TWO books, unique spreads, a working journal and lots of great features. 
iPHONE - or - ANDROID.
from THE FOOL'S DOG
Blog
---
  My latest deck, MYSTIC VISIONS ORACLE and MEDITATION DECK, is now available.  Created in collaboration with ethically-sourced A.I., MYSTIC VISIONS is both a meditation tool and an oracle that...
Hot on the heels of the release of MYSTIC TAROT comes a new entry in our nostalgic Playroom Oracles series, THE ROOSEVELT BEARS ORACLE!  Sourced from our own first edition...
You can't keep a Good Magician in the Trunk. Abracadabra! Alakazam! Peer Beyond the Veil! Witness for yourself the enchantment of MYSTIC TAROT — a Tarot Pack steeped in the...